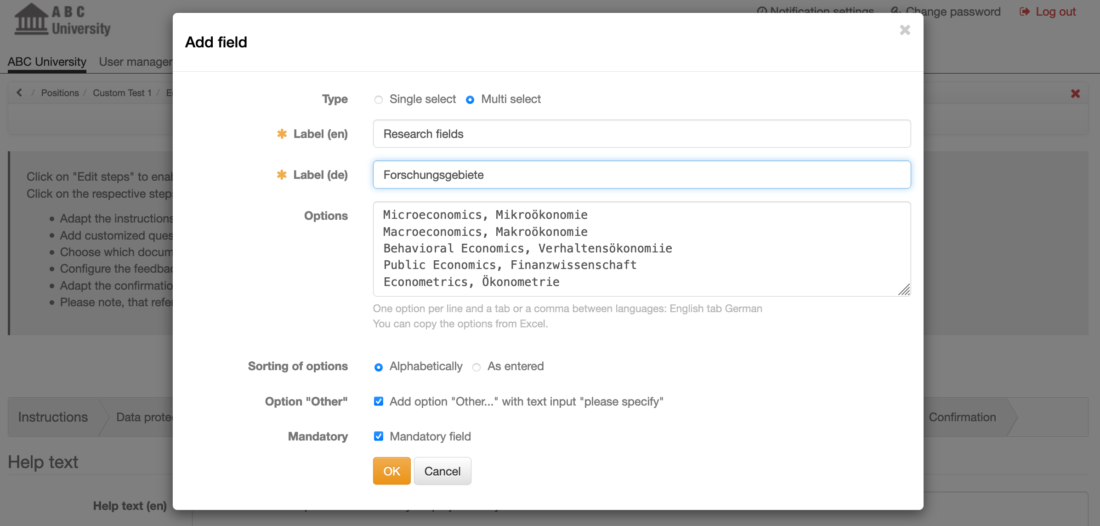 Introducing the Selectus Release 5.0!
With the new Selectus Release 5.0, you can customize the application workflow for every call if needed.
With Selectus 5.0, you have more flexibility in adapting various elements of the application workflow. As a result, one Selectus instance can be more easily used for different types of calls.
In the "Instructions" step, the automatic default text can be replaced by a custom text.
The help texts in all steps can be customized.
In the steps "Personal data", "Academic Background" and "Project" the questionnaire can be supplemented with selection elements (answers as dropdowns or lists), subtitles and additional help texts in addition to the existing free text fields.
The confirmation text in the browser after submitting the application and the text of the confirmation email to applicants can be customized.
In addition, when creating a new position, you can copy the configuration of a previous position. This allows you to create templates for specific types of positions and saves you from having to configure all the settings each time.