Selectus Feature Focus: Configuration of the Application Workflow
In our Feature Focus series, we'll be reporting periodically on interesting features and functionalities in Selectus that facilitate the work of the selection committee and administration.
In this post, we'll show you how to customize the application workflow in Selectus for different types of calls.
The application workflow is one of the core components of Selectus. Applicants can access this application workflow directly via a link in the call or job advertisement and can enter their data and upload the application documents step-by-step. As soon as they have submitted their application, applicants will receive an automatic confirmation by e-mail.
Depending on the type of call – faculty recruiting, PhD positions , project calls or others – different information may be needed from applicants. Each Selectus instance therefore has a customer-specific configuration of the application workflow. But how can you collect different information and application documents from applicants for different types of calls on one Selectus installation?
Nothing to worry about! When setting up a call, you can easily customize the application workflow. With the latest Selectus Release 5.0, these possibilities have been expanded considerably.
Easily mark which documents are mandatory or optional for applicants to submit, and rename these documents as needed.
Supplement the standard forms, in which the applicants enter their personal data, academic background, etc., with so-called custom fields. All information that you request directly in the application forms can be displayed in the overview table and the applications can be sorted or filtered accordingly.
Set whether and how many reference persons the applicants should specify and whether they should be automatically contacted and asked to submit a reference letter. By the way, reference letters are automatically added to the corresponding application.
Customize the initial instruction text in the Instruction step and the help texts in the other steps. With clear instructions adapted to the call, you facilitate the process for applicants and prevent time-consuming inquiries.
Customize the text of the confirmation email to applicants if, for example, you want to provide specific information on the further steps of the application process.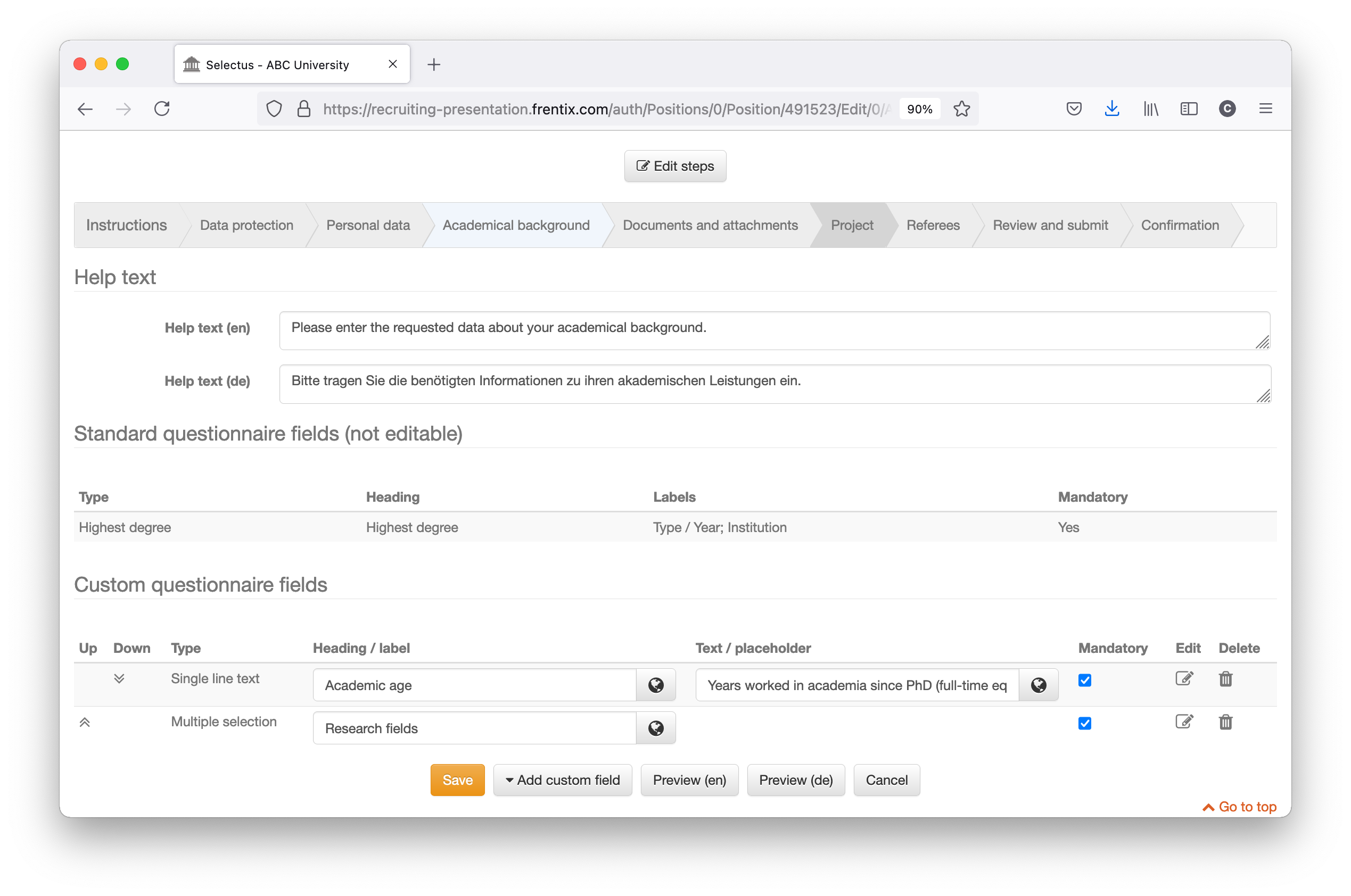 In the edit mode of the position, you can customize all the steps of the application workflow.
By the way, if you want to prepare multiple calls involving the same or similar application workflow customizations, you don't have to start from scratch each time. With the new call copy feature, you can easily copy all the configurations of an existing call or a template.