Selectus Feature Focus: Experts
In our Feature Focus series, we'll be reporting periodically on interesting features and functionalities in Selectus that facilitate the work of the selection committee and administration.
This article is about the experts. We explain how you can contact experts and solicit their assessments in Selectus.
In many academic selection processes, expert opinions play an important role. For example, when research funds are awarded in a competitive process, experts review the submitted projects. At many univiersites, inependent experts are also involved in the faculty recruiting process and asked to assess the listed candidates. Selectus makes it easy to integrate such expert opinions into the selection process.
Once the committee has selected the experts, Staff can enter them in Selectus and add them to the corresponding application. Then, the experts can be contacted by email directly from within Selectus and asked to provide their assessment. The corresponding customer-specific email template is stored in the system and, if needed, the email text can be customized before sending.
By means of a personal link in the e-mail, the expert can access the text of the call and the relevant application data and upload his or her report. The letter is automatically assigned to the correct application and made available to the committee in the application dossier. If required, all expert assessments for all applications can also be downloaded in a ZIP file.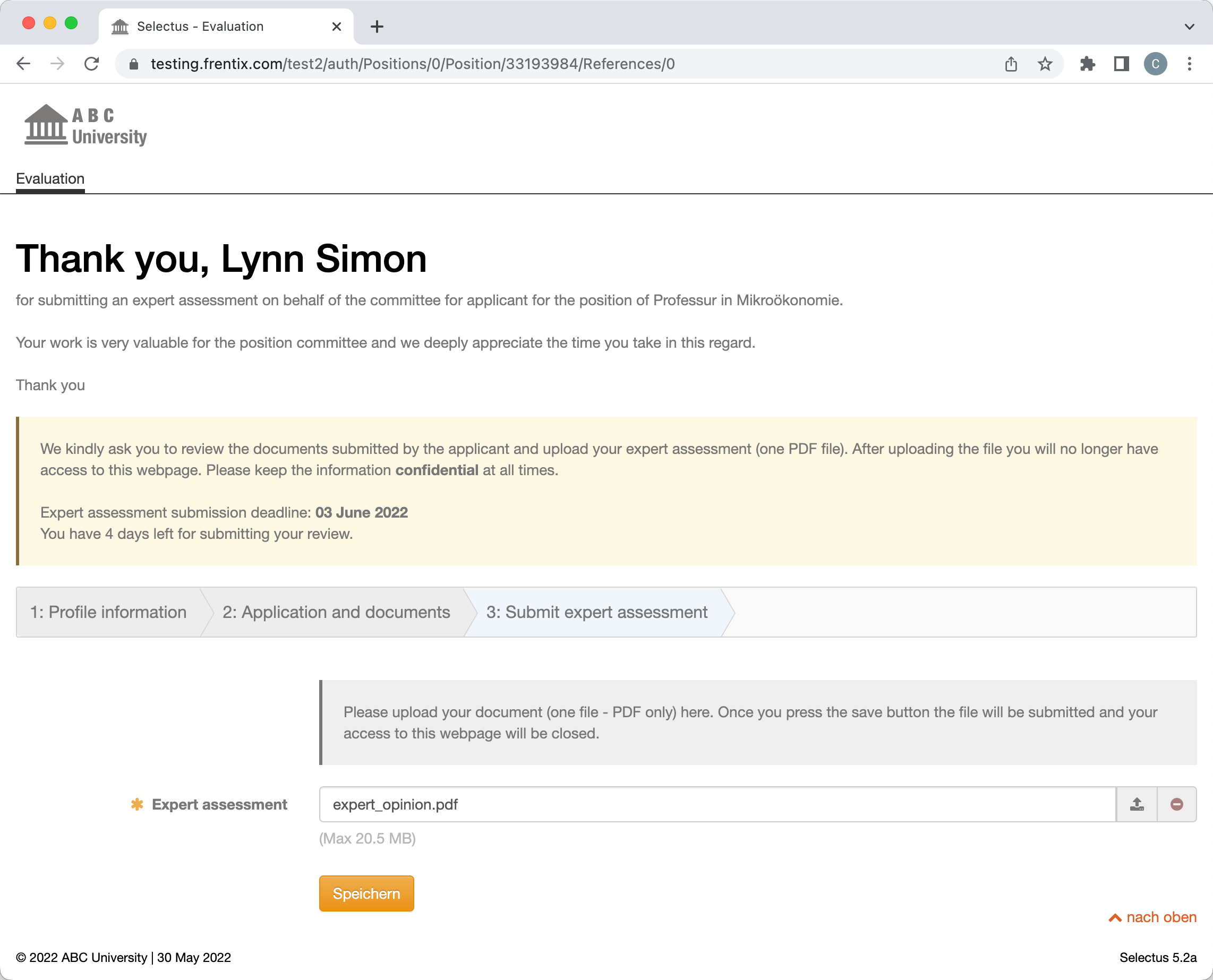 Staff has an overview of the status of the requests at all times. If necessary, staff can remind the experts of the expiring deadline, adjust deadlines, or manually add assessments to an application that have been obtained through other channels.
Note: Related to the expert feature is the referee feature in Selectus. While experts are appointed by the committee and write an independent expert opinion, referees are chosen by the applicants themselves and thus write a well-intended letter of recommendation. We have taken e a closer look at the referee feature in the last Feature Focus.